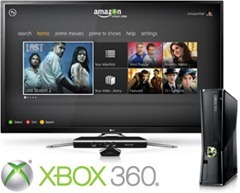 This morning Amazon.com and Microsoft announced the launch of a new app for Xbox, Amazon Instant Video.  The new app brings new movie releases, current TV episodes, and Prime Instant Video to Xbox Live Gold members, with the Prime features coming to consumers who also hold an Amazon Prime subscription.  Of course you don't need to subscribe to the $ 79/year Amazon Prime service (which also offers free 2-day shipping from Amazon, among other features) to use Amazon Instant Video if you're content with less than premium video content.
In addition, Amazon Kindle users will be able to switch seamlessly between video playing on their Kindle Fire to the Xbox (or back), using Amazon's "Whispersync" technology.  Amazon is also including a "Watchlist" where users will be able to add any title to the Watchlist, creating a way to organize what to watch next with the apps and Xbox.
Here's a list of features of the new app, available now for Xbox Live members:
The new Amazon Instant Video app for Xbox 360 includes:

The ability to browse and play videos with the Xbox 360 remote control or Kinect voice and gesture commands.
Instant streaming of thousands of high-definition movies and TV episodes that start and resume in just seconds.
Watchlist for Amazon Instant Video – allows customers to create a list of things they want to watch, and find those movies and TV episodes easily.
Whispersync – lets customers seamlessly switch from one device to another. Customers can start streaming a movie on Kindle Fire, then pick up right where they left off on their Xbox 360 console and avoid the frustration of having to find their spot.
Your Video Library – customers can access their purchases from Amazon Instant Video on the Xbox 360 or any of the hundreds of other devices enabled for Amazon Instant Video.
Microsoft also took to its Official Microsoft Blog today to have Yusuf Mehdi, formerly of MSN and Bing, and now Chief Marketing Officer for Xbox, provide some sales stats for the Xbox and hint at news to come out of E3 next week.  Xbox sales continue to "defy gravity" according to the blog post, continuing to rise in sales year after year while other consoles display a much shorter lifespan: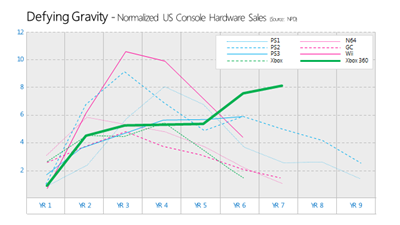 Mehdi then goes on to tease the announcements coming at E3 next week, including more news about Xbox on Windows 8 devices, "new ways to enjoy the entertainment you love", and a few surprises:
With the launch of Windows 8, we'll bring Xbox entertainment to everyone. With Xbox on Windows 8 devices, we rapidly accelerate the reach of Xbox entertainment from more than 60 million people to hundreds of millions of people worldwide.

We understand that entertainment has become a multi-screen experience where you and your friends are watching TV, listening to music, and playing games while interacting with your tablets and phones in new ways. We've got ideas for making all the entertainment you love more personal, interactive and social across the devices you love—and on the phenomenal Windows 8 devices that are to come.

You'll see the first of that next week at E3 where we will showcase the very best of Xbox. We'll unveil new games, show new ways to enjoy the entertainment you love and, as always, we'll have a few surprises to share!
Are you an Amazon Instant Video user and/or a Kindle Fire owner?  Will having seamless access between the Fire and your Xbox make you more likely to consider a Fire?  Or do you use Amazon Instant Video at all?

LiveSide.net