Microsoft announced today that "Facebook chat is available to Hotmail customers worldwide, wherever Facebook is available".  Hotmail began integrating Facebook chat into Web Messenger last September, but it was only available in 6 regions.  A few weeks ago, Facebook chat integration became available worldwide via the full Messenger client, and now this next step brings FB chat to Hotmail via Web Messenger as well.
According to the blog post, some two and a half million people have added Facebook chat to Messenger since Microsoft announced worldwide availability, bringing the total FB/WL connections to some 20 million.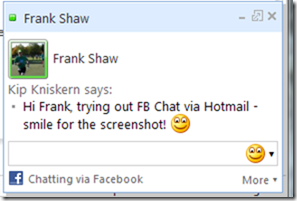 You can read more on the Inside Windows Live blog.

LiveSide.net