As we're inching closer towards the Windows Phone Developer Summit, to be held on June 20-21 in San Francisco, more and more news (and rumors) about Windows Phone 8 are starting to surface. The latest news came from WMPU who reported that a new device from Nokia, codenamed Nokia "Phi", has appeared on WPBench, an app on the Windows Phone marketplace for benchmarking device performances (and often reveals interesting new device names). What's more interesting is that the device is said to be running the OS build 8.0.9698.0, one of the latest builds of the upcoming Windows Phone OS. Check out the screenshot below: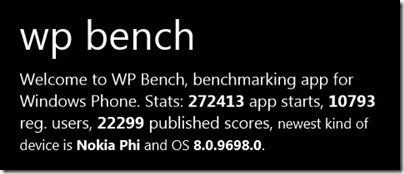 Unfortunately the WP Bench tool is not spoof-proof. Since the revelation of the Nokia Phi, various other suspicious device names such as Nokia Lambda or Nokia Alpha has appeared on the WP Bench. Whilst these device names were widely reported, Robert Varga, the creator of WPBench, contacted WMPU confirming that all the devices that appeared after the Nokia Phi has been identified as spoofs, and will be removed from the database. However, this also indicates that the entry for Nokia Phi does not appear to be a spoof and may indeed be the codename for a real WP8 device currently in testing.
Interestingly, whilst the Nokia Lumia 800 was widely known by its codenamed of "Sea Ray", it was also once referred to as the Nokia Alpha for marketing agencies prior to its release, indicating that the Greek number-based codenames seems entirely plausible.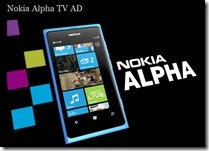 With Nokia bringing their annual Nokia World event slightly earlier this year to September 5 (with a new format), could we see the new Nokia Phi, amongst other rumored devices like the Nokia "Prodigy" and Nokia "AC/DC", during this event? And will the new device sport the new PureView technology, or look like one of these design patents from Nokia? We'll keep you posted here at LiveSide, stay tuned!

LiveSide.net