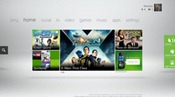 Back in March, Microsoft came right out and said that there would be "no talk of new Xbox hardware at E3 or anytime soon" even though there are rumors of new hardware development kits already in production, and we know we'll be hearing more about Kinect and Halo 4.  We've even been hearing rumors of a new music service, code named Woodstock, that apparently will become an Xbox Live replacement for Zune music services.
But today on a "Bonus Round" podcast from GameTrailers.com, market analyst Michael Pachter revealed that he's heading to Redmond for NDA pre-briefings on what's coming at E3 (at about 18:00 of the podcast), and that the focus will be not on games, but on the dashboard:
That's my big NDA, because they haven't revealed any of this to me yet, but we're going up there in a couple weeks to get the preview, and they told me don't expect a lot of game stuff, expect a lot of dashboard, interface, multimedia, so I think you're going to get exactly that.
The podcast panel from GameTrailers also talked quite a bit about Kinect, which although it has sold very well, just hasn't found an indispensible use for gaming or living room entertainment.  Pachter, calling both Sony and Microsoft "half-pregnant" with their interfaces, said that the winning bid is coming from Apple, where controlling your living room experience by tactile scrolling with an iPad, and perhaps searching with Siri, is the most compelling solution.  Still, the panel expects to hear a lot about Kinect at E3.
E3 takes place in Los Angeles, officially on June 5th through the 7th, with the Microsoft Media Briefing coming on Monday June 4th at 10am PDT, to be broadcast live on Spike TV and on Xbox Live.
(via Consoleation, "one man's take on console gaming")

LiveSide.net